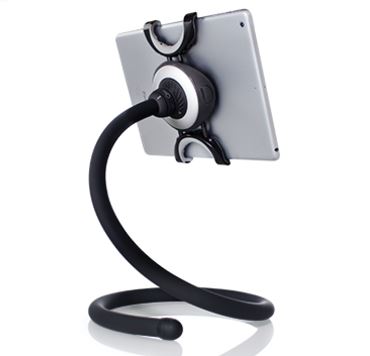 Octa Spider Monkey
Special order - delivery typically takes 10 to 15 working days.
This adaptive tablet stand will change your perspective—literally.
The Spider Monkey provides hands-free, eye-level comfort. Its flexible steel skeleton lifts your tablet into the air. Wrap, curl, or tuck it in place in bed, on the couch, and elsewhere.
No longer bound by gravity, you'll enjoy new uses for your tablet. You'll finally be able to relax while video chatting, reading, writing, or watching a movie. Get out the popcorn, and get your hands back.
• Flexible: wraps, curls, and tucks in place for hands-free use
• Comfortable: eye-level viewing reduces neck strain and improves posture
• Adjustable: base rotates 360° for easy screen adjustment
• Modular: components fold and separate for easy travel or storage
• Universal: tablet holder works on any iPad, tablet, or e-reader (see Specs)
• Case-Friendly: compatible with most cases (see Specs)
• Interchangeable: modular design works with entire TabletTail™ system
Compatible Cases:
The Spider can hold cases between 5.80in (14.73cm) and 8.75in (22.2cm) in length or width that have a max thickness of 12mm (.47in). Most cases fall into these parameters. However, the Otterbox Defender Series does not.