KAZ Typing Tutor SEN / Dyslexia Edition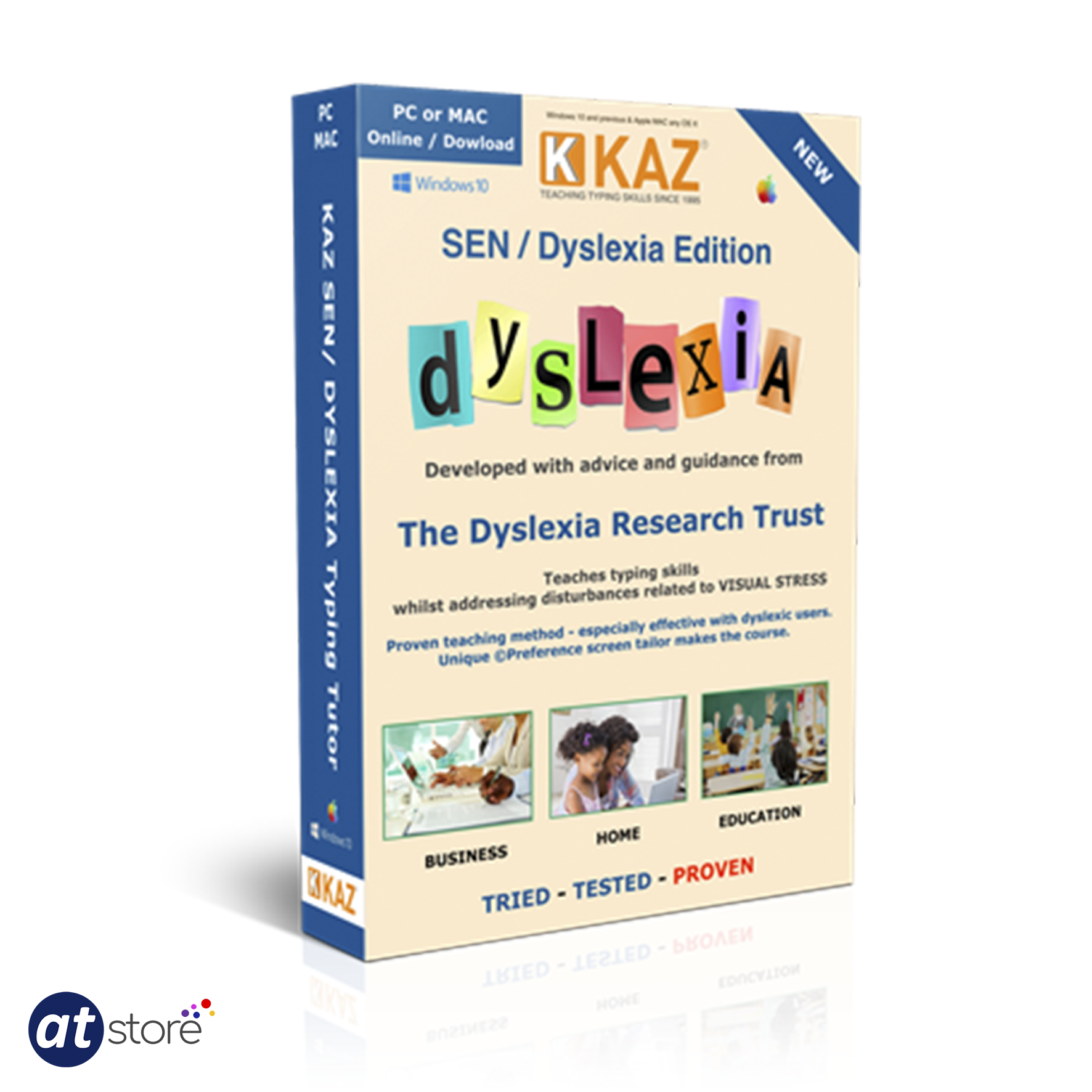 KAZ Typing Tutor SEN / Dyslexia Edition
If individuals with special educational needs are equipped with the correct tools, they stand a greater chance of reaching their full potential.
Through trials and feedback from special needs teachers across the world, it has been proven that touch typing and using a computer are formidable and even life changing tools that opens doors for individuals with special educational needs / dyslexia, as it presents a new and powerful medium for learning and communicating.
KAZ is probably the fastest way to learn to type and eliminates the need for tedious typing drills, mind numbing lessons and boring typing tests. Its unique and revolutionary ACCELERATED LEARNING method teaches you how to touch type correctly in minutes instead of hours, and all in the comfort of your own home or chosen environment.
Choose between our Adult Version, Junior Version (with fun imagery, animation and age related vocabulary) and our cost effective, multi user Family Edition.
Although the 'Standard' KAZ touch typing program has proved extremely effective, continued feedback from SEN teachers confirmed that approximately 10% of their students, the majority dyslexics, still suffered with disturbances relating to Visual Stress - that of white glare from background screens causing headaches, blurring, letters rotating, flipping, crowding and running into each other.
So in order to address and help alleviate some of these disturbances, we took advice from several dyslexia experts – most notably, Dr. Sue Fowler and her team at the Dyslexia Research Trust, Reading Clinic and Oxford University.
Over the last fifteen years the Trust have carried out extensive research, trials and visual assessments on over 10,000 children. Results found that the application of a specific shade of blue filter to help stabilize letter movement and of yellow, to minimize blurring, was extremely successful in the majority of children suffering with visual disturbances and had either improved or completely eliminated their problems – resulting in a rapid improvement in reading skills.
These findings, together with the fact that every individual suffering from dyslexia is unique, in regards to the obstacles they encounter when reading and the help they require to alleviate these obstacles was the major points high-lighted.
With this in mind, KAZ incorporated the above mention filters into their course and further developed their programme to produce are New SEN/Dyslexia edition, especially tailored for individual dyslexic users.
Unique 'Preference Screen' - especially effective with SEN/Dyslexic users
Incorporating a multi-sensory approach throughout, KAZ's new SEN/Dyslexia Edition teaches typing skills whilst minimizing disturbances related to visual stress, by means of a unique 'preference screen', offering a choice of preferences.
Preferences include:
Choice of coloured background/filter screens – for reducing white screen glare

Choice of 2 specific DRT research based background/filter colours - for steading letter movement and blurring (the program has been specially adapted to replicate as best possible the effect of these coloured filters)

Choice of dyslexic friendly typefaces (including 2 licensed dyslexic fonts) – for ease of reading

Choice of font colour – for contrast from background screen colour

Choice of font size – for optimum visibility comfort and to minimize fusing and crowding of letters

Choice of Keyboard – for optimum visibility comfort
Once the user has selected their preferences and can read the sample text comfortably, these options are then 'Saved' and applied throughout the course, tailor making it and ensuring the learning experience is comfortable and enjoyable.
KAZ's Unique Teaching Method
The KAZ program uses a unique 'accelerated learning' teaching method. Incorporating both 'muscle memory' and 'brain balance', it engages the major senses of sight, sound and touch simultaneously, radically enhancing memory retention and recall - which is why it is so effective. Using specific combinations and progressions of just 11 words in 5 scientifically structured phrases, the method trains the fingers on both hands to work symmetrically and simultaneously – a direct result of both hemispheres of the brain working at the same time –'brain balance'.
No other typing tutor works in this way. With repetition, reading, spelling and vocabulary are engrained to memory and with 'muscle memory' spellings become a series of finger movements and patterns on a keyboard, reducing the likelihood of transposing and mis-spelling words. The Course is presented in a structured but light hearted manner to make learning fun and enjoyable. It solely focuses on teaching typing and does not include gaming or try to teach typing with other subjects, as research has proven that this splits concentration and in the case of SEN individuals, may overload the 'working memory'.
The course is divided into 5 modules:
1. Flying Start - (An introduction to the course – simple and consistent site navigation)

2. The Basics - (5 scientifically structured and trademarked phrases teaching the A-Z keys)

3. Just Do It - (A-Z keys reinforced)

4. And The Rest (Punctuation Keys)

5. Speedbuilder - (Simple, yet discretely challenging module, increasing speed and accuracy)
Once the first phrase is completed, a real sense of achievement is gained, motivating the student to continue onto the next phrase and so on. Each section offers instruction and encouragement in short modules in order to hold concentration and once again, avoid overloading the working memory. The student is allowed to progress at their own pace, acquiring the skill and gaining speed and accuracy without even realising it.
As with many dyslexics, spelling is poor. With KAZ, the user does not have to rely on their spelling ability. All vocabulary is displayed on the right hand screen and they simply have to copy and type the text into the left hand screen – as learning to type and not spelling is the main objective. However, the tests and the SpeedBuilder module have been structured so that the user has to type the correct letter / key, before they can continue on to the next letter. With practice, 'muscle memory' engrains these actions and spellings become a series of finger movements on the keyboard, dramatically reducing the likelihood of transposing and misspelling words.This is why so many Special Needs Coordinators (Senco's) and teachers recommend KAZ's dyslexia typing course.
KAZ's multi-sensory unique teaching method, combined with its new 'Preference Screen', delivers a student tailored, simple yet dynamic course.
KAZ Junior SEN / Dyslexia Edition
Our new Junior SEN/Dyslexia Edition (age 6 - 11) includes the same unique 'Preference Screen', uses the same proven teaching method and includes all the benefits of the KAZ Adult Typing Tutor but with age-related vocabulary, fun imagery and amusing animations - designed to hold the interest and concentration of the younger mind. However, we recommend adult supervision when first using the 'Preference Screen'.
KAZ Family SEN / Dyslexia Edition
Our new Family SEN/Dyslexia Edition offers a choice of both Adult and Junior versions, available as a cost effective 5-user multi license for the price of three.
Dyslexic family members should use the 'Preference Screen' to obtain their preferred settings. Non dyslexic members should simply begin the course on the pre-set default settings.
The Online edition includes an 'Administrator Panel' where the administrator can choose and allocate the appropriate license to each family member and can monitor family progress (bookmarks, speed and accuracy).
Now everyone in the family can learn to type.