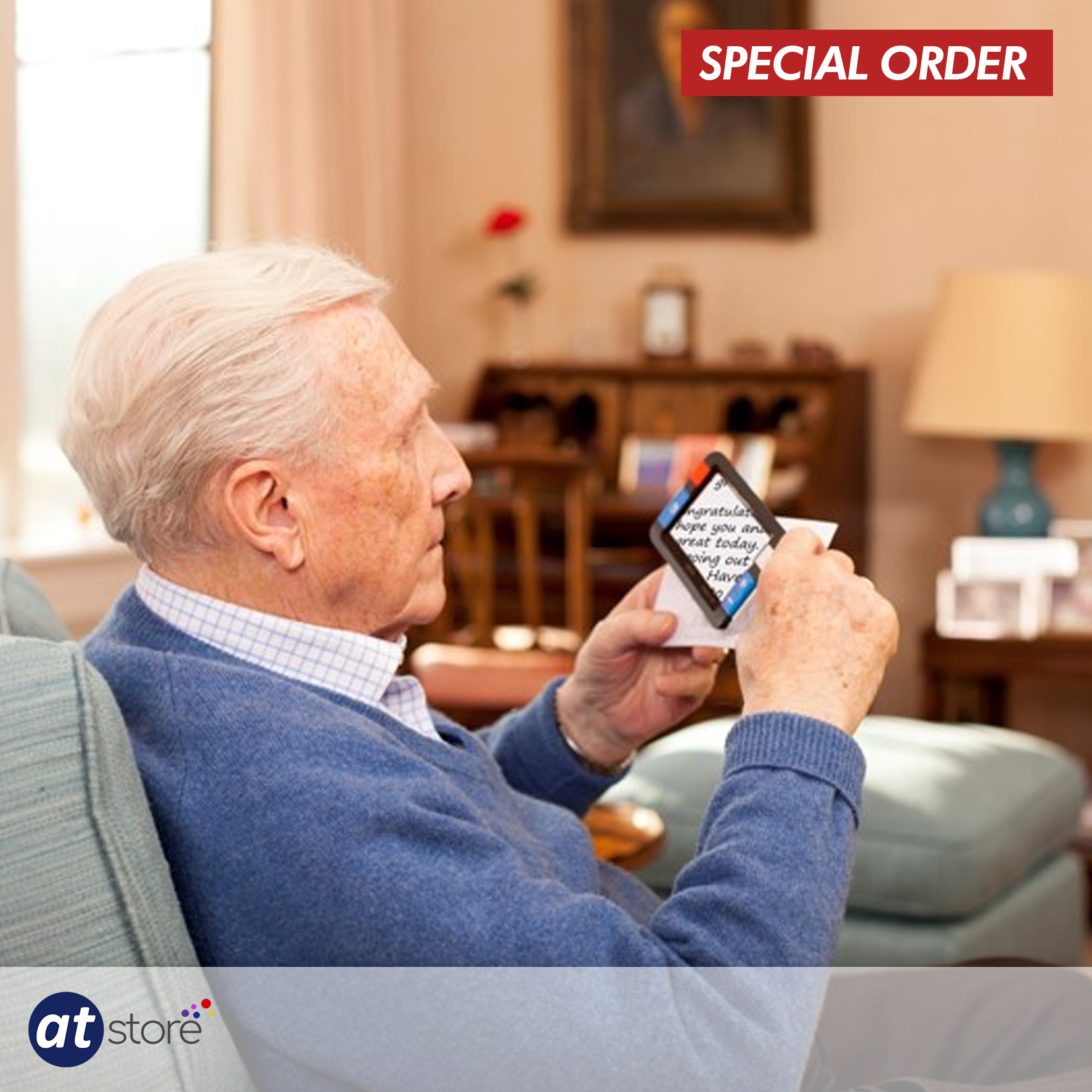 Optelec Compact+ HD
Special Order - Delivery typically takes 10 to 15 working days.
This small and light weight video magnifier offers more reading comfort than an optical magnifier.
With its multifunctional design and integrated handle, the Compact+ HD can be used for reading, viewing images, price tags, displays and much more while at home or on the go.
Imagine being able to read more easily
The award-winning Compact+ HD, is a pocket-size video magnifier designed for the benefit of low vision people. Simply place it on a newspaper or magazine and the magnified image is shown on the integrated display.

Superior image quality
The Compact+ HD offers bright and clear images, a full colour 4.3-inch widescreen offers up to 10 times variable magnification, with multiple high-contrast viewing options.
The camera is located at the centre of the Compact+ HD, so positioning over reading material is easy. With the added benefit of a collapsible handgrip, the Compact+ HD can be used in the same way as a traditional handheld magnifier.
Intelligent design for effortless reading and writing
Compact+ HD is made of high quality materials that give it a modern look. When out and about shopping, the snapshot facility is useful for capturing images such as the price displayed on a supermarket shelf. Simply place the Compact+ HD over the object, press the snapshot button and the captured image can be viewed immediately.
Use for writing as well as reading
Simply move the camera to the second position and lean on the Compact+ HD so that it sits at an angle, to allow enough space beneath for effortless writing.
Freedom to go anywhere
Every Compact+ HD comes with a rechargeable battery, offering 3 hours of power.
Also standard, off-the-shelf AA batteries can be substituted when there is no opportunity for recharging.
Dimensions: 130 x 80 x 33 mm / 5.1 x 3.1 x 1.3 inches

Weight: 252 grams / 8.9 ounces

Magnification: 3X-10X

Display: 4.3-inch full colour TFT widescreen display

Screen resolution: 480 x 272

Viewing modes: Full colour plus four high contrast modes

Power Source: Rechargeable batteries allow up to 3 hours of continuous use.

(Optional use of standard AA batteries)

Carry case and lanyard included