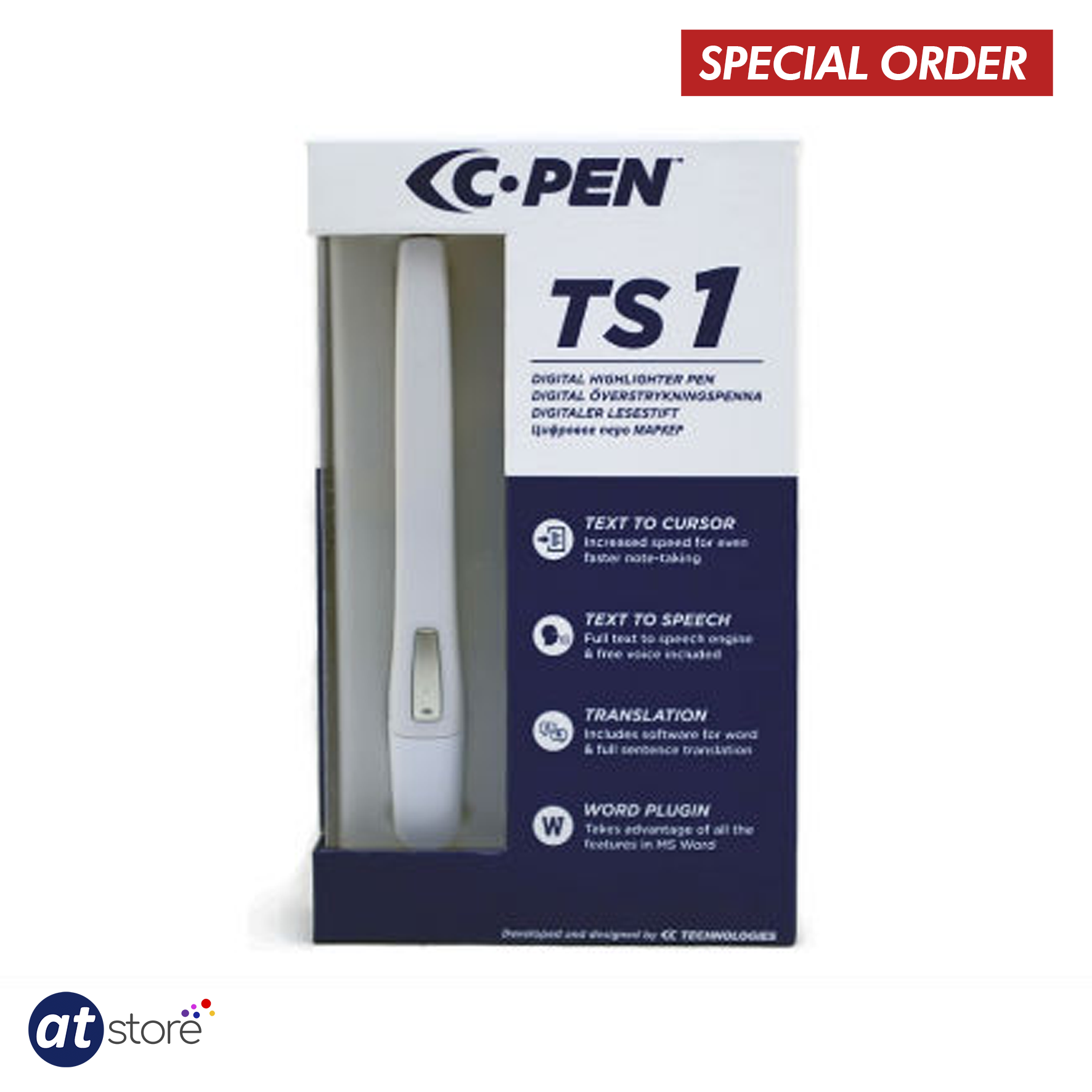 C-Pen TS1 Scanning Pen
Special order - delivery typically takes 10 to 15 working days.
C-Pen TS1 is the latest C-Pen device made for desktop use with stationary computers and laptops and works through USB connection. This device has all the great functionality of a C-Pen and is best suited for users that only want to use C-Pen with their computer. Compatible with Windows. The TS1 comes with a full text to speech engine, the TS/X Editor and a free text to speech voice.
C-Pen TS1 is the latest C-Pen device made for desktop use with stationary computers and laptops and works through USB connection. This device has all the great functionality of a C-Pen and is best suited for users that only want to use C-Pen with their computer. Compatible with Windows.

The TS1 comes with a full text to speech engine, the TS/X Editor and a free text to speech voice.

Works with any application.

The highlighted text is inserted to any application you chose, just as if you would have typed it yourself using the keyboard. So regardless if you use web browsers, text applications, business software or just about any other application, the C-Pen digital highlighter does the work for you.

Or use the included TS/X Editor.

The TS/X Editor is our own word processing application that is included when you buy a C-Pen TS1. It has all the regular features you expect from a text editing application as well as some nice extras.

We built in and integrated all the great features, enabled quick translation and text to speech, directly into the application so you can access and take advantage of these features seamlessly on all your documents.

TS/X Editor supports .doc, .docx, and pdf formats and you can thus open, edit, save, and even listen to documents you receive in school or at work.

Listen to any text that you highlight.

When you install the C-Pen software you get a full text-to-speech engine included for free. This text to speech functionality is seamlessly integrated with the C-Pen software, so you can easily listen to any text you highlight.

The text-to-speech functionality is also available within the TS/X Editor and this lets you easily listen to any text in the document, regardless of if it was highlighted with the C-Pen digital highligher or if you had written it on the keyboard yourself.

Word & full sentence translation.

The TS/X Editor has an integrated translation functionality, simple right click on the word you want translated and select translate, and the translation of the word will appear.

Features and Specifications:
Size 117 x 14 x 22 mm
Scanning speed up to 25 cm/s
Character size 5-28 points
Abbyy FineReader OCR Engine 8 with support for Latin, Greek and Cyrillic character sets (180 languages)
USB connectivity

System Requirements:
Windows XP/SP2, Vista (32/64 bit), Windows 7 (32/64 bit)
USB port (USB 2.0/1.1)
200 MB free disk space

Package Contents:
C-Pen TS1
Software DVD
Quick start guide
Free text to speech voice